HANNOVER MESSE is the "barometer" of world industrial trade! The wind vane of global industrial technology development.
The 5-day 2023 Hannover Messe in Germany came to an end on April 21. The theme of this year's exhibition is "Industrial Transformation - Making a Difference," and topics such as artificial intelligence and machine learning, hydrogen and fuel cells, and carbon neutrality producing have attracted a lot of attention. The exhibition attracted more than 4,000 exhibitors from all over the world, an increase of about 60% over last year. Among them, there are more than 800 Chinese exhibitors, with a net display area of 12,000 square meters. The number is second only to the host Germany, showing the determination of Chinese enterprises to actively explore overseas markets and deepen international innovation cooperation.
Microcyber joined hands with industrial Internet products to appear at this exhibition. Microcyber has focused on the field of industrial Internet and has been deeply involved in the field of industrial Internet for 19 years. It is mainly engaged in the research, development, production and engineering application of software and hardware products with industrial Internet technology as the core. At present, a full range of industrial Internet products such as coverage perception, data acquisition and control, industrial communication, and cloud services have been formed.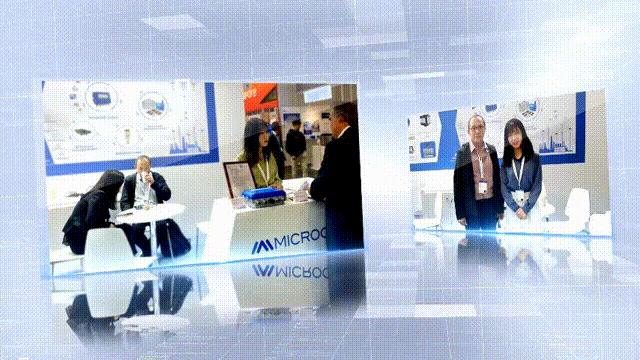 "It Is Becoming More and More Important That Cooperating with Chinese Industrial Internet Companies"
Boris Otto, director of the Fraunhofer Institute for Software and Systems Engineering in Germany, said: "The development of China's industrial Internet has made great progress. As the industrial Internet ecosystem is increasingly globalized, cooperation with Chinese industrial Internet companies is becoming more and more important."
"There Are More and More High-tech Products Independently Developed by China"
In front of the industrial Internet product booth displayed by the Chinese exhibitor Microcyber , Philip Weiser, an industrial supplier from Germany, listened carefully to the explanations of the staff and asked about the technical indicators of the products from time to time. The general manager of Microcyber Products Division gave a detailed answer. The products adopt digital, intelligent, and networking technologies. The company relies on industrial Internet software and hardware with independent intellectual property rights to provide mature end-to-end application solutions. At the same time, Rene Probst, the person in charge of Siemens AG electrical products, said: "I am very glad to have a meeting with Microcyber. I hope that in the future, we will continue to deepen innovation cooperation, strengthen technological integration and industrial integration, and jointly promote high-quality development."
Relevant companies from various countries are looking forward to further in-depth cooperation with Chinese companies. At the same time, Microcyber will actively participate in well-known exhibitions at home and abroad, and work hand in hand with customers and enterprises inside and outside the industry to seek common development and deepen cooperation for mutual benefit and win-win results!